Be In Control Using Technology
Imagine seeing live progress on all your properties in the palm of your hand as it's snowing outside.
Imagine that you are able to see which one of your properties have already been plowed and salted.
Which properties have not been visited yet.
Which properties are being done right now.
What if you could see before and after photos, right after the work has been performed, from all of your properties for every single visit Everest Snow Management makes.
What if you could have access to all that information from the palm of your hand?
Welcome to the Future of Snow Plowing! It has Arrived!
Over the last 8 years Everest Snow Management's own in-house technical and field operations teams have been creating Everest's proprietary technology and software coupling it with Everest's unique and proven way of operating on your properties. We are delivering unheard of solutions and help You our client be in complete control over all your locations in your geographical territory.
Our entire fleet is equipped with Smart Phones that allow our crews to enter what work is being done along with documenting our work process with photos before and after as they arrive at your locations.
For the first time in history of the snow plowing industry you can
Work with a Snow Plowing Company that is completely transparent and able to give you instant of what is happening on all your locations during snow events across your entire territory.
View photos from every single one of your locations live
for every single visit that our driver has made.
See if the work provided was deemed necessary. Forget about those days where you question if the crew made the right decision or if they actually did the work they say they did.
Have your Snow Contractor be actually ON YOUR TEAM.
---
Plus, if you're one of many property managers that are in the field all day long... Well - we just made your life a little easier. We now have the ability to share water damage repair near your location and all of this information on any iPhone or Android, all at your fingertips, as the snow storm is happening.
If you're at your desk all day long? No problem, we've got you covered as well. By using the "Everest Client Portal", we can give you access to all of this information through a web browser too.
Web-Based Client Portal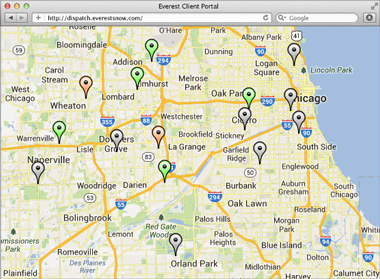 Real-Time Info, Android or iPhone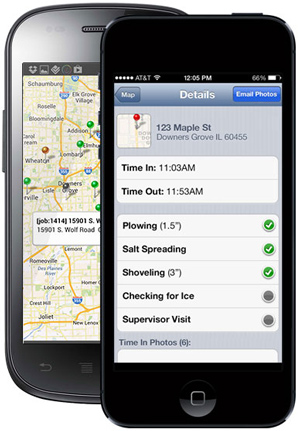 Photos Before & After