Be in the center of attention
One of the many benefits of working with Everest Snow Management is our continual open lines of communication with our clients. We understand what's important to property managers and owners on hectic snow days and the challenges that come with ensuring each property is safe. Whether you have a single location or a large portfolio across multiple states, you can always trust that Everest Snow Management will provide you with what you need and when you need it.
Be notified
Our first line of communication comes in the form of weather warnings. These are emailed to you before each storm, so we can alert you that inclement weather is coming our way. We realize that each storm is different and there is a need to keep you informed of our efforts, we will continue to provide weather and operational updates throughout the storm, so you know what we've done and what we are about to do. These updates are vital, especially during lengthly storms.
Be in control
The biggest impact we've seen in our communication efforts is the use of our private web portal. As a customer, you will be able to access live before and after photos, which are GPS tagged and time stamped. This will allow you to see our prompt and quality service from any web browser and is available 24/7. In addition, a key function of this tool allows you send any of these pictures forward to another recipient as well as create detailed reporting. Read More About Technology.
Be informed
Emailed job reports will follow immediately after the storm and will show all of the services that were performed. These reports will also coincide with detailed invoicing, which are sent out 48 hours after each snow event is completed.
Be 100% satisfied
Everest Snow Management is determined to provide each customer with the perfect snow plowing experience through reliable service and constant communication. So don't hesitate to make the first step in developing a lasting relationship with your snow contractor. We look forward to earning your trust!
Weather Warnings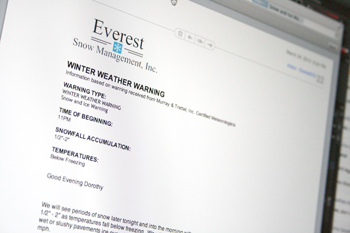 Live data visibility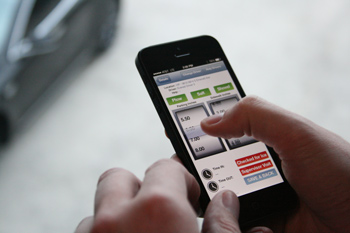 Job Status Reports